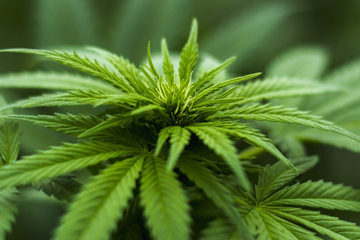 Safety considerations for the cannabis industry

The U.S. cannabis industry is currently worth $61 billion with nationwide sales increasing 67% in 2020. With even more growth expected as more states relax cannabis consumption and/or possession laws, it is not surprising that producers are popping up all over the country. Knowing the industry risks, having a safety plan along with the right equipment will help decrease the chances of serious injuries or fatalities.
Businesses operate within four areas in the cannabis industry: cultivation, processing, laboratory, and retail. Each come with their own chemical hazards that need to be carefully considered when completing a workplace risk assessment.
Cultivation
Cultivation facilities use insecticides and fungicides to ensure their plants are perfect. Pesticides cause skin irritation, pose a respiratory hazard, and absorption into the skin carries long term health effects. Any workers who help grow or harvest marijuana can come into contact with pesticides and must be protected with emergency decontamination facilities.
Cannabis cultivation, or growing operations, include duties such as planting, mixing of chemicals and nutrients, cleaning, harvesting and trimming.
Employees who work cultivating marijuana plants can also encounter corrosive chemicals used for plant growth, such as anhydrous ammonia. These chemicals can be so corrosive that they can even damage metal. The chemicals burn the eyes, skin and the inner lining of the nose, throat, and lungs.
Post-harvest operations, such as trimming, exposes workers to dust in eyes. While PPE can help, emergency eye wash units need to be in place to ensure all dust can be removed from the eyes.
Processing
Cannabis processing includes duties such as extracting cannabis concentrates, cooking, baking, packaging, bottling, and labeling cannabis infused products.
The cannabis industry uses butane as a solvent, by running the flower through a closed loop system. The solvent draws cannabinoids out of the plant by dissolving them, producing potent Butane Hash Oil or BHO (if carbon dioxide is used, the result is called CO2 oil).
Where cannabis is used to create edibles, ammonia refrigeration can often be used to keep products cold. Ammonia is a particularly dangerous chemical which is corrosive to skin causing acute freeze burns.
The hazards of cleaning agents used in processing also need to be considered. When even basic cleaning agents are used on a regular basis, they cause skin irritation or respiratory issues. Some more caustic cleaners also cause chemical burns if they splash onto skin or into eyes.
Laboratory
Laboratory duties include quality control to determine cannabinoid and contaminant concentrations.
Popular solvents used in cannabis extraction include butane, isopropanol and propane. Isopropanol and propane are both flammable and can cause eye irritation.
Safety shower considerations
Before purchasing safety showers or eye wash equipment, it's important to ensure you read the Safety Datasheet (SDS) for the hazardous chemicals used on your site. Some SDS include very specific decontamination instructions that must be considered to ensure the right safety equipment is in place.
In order for hazardous chemicals to promptly and effectively flushed from the skin and eyes to minimize injury, ANSI/ISEA Z358.1-2014 standards should be followed.
Some core ANSI recommendations to consider are:
Emergency safety showers must be located within 66 feet or 10 seconds of a hazard.
The water delivered by your emergency safety showers must also be tepid. This is defined as being between 60-100 F.
Emergency safety showers and eye wash equipment must be inspected and activated weekly.
For more information about the ANSI/ISEA Z358.1-2014 standards uniform minimum requirements for the performance, use, installation, testing, maintenance and training of emergency safety shower and eyewash equipment, view the summary here.
For advice on the most suitable solution for your application or to request a quote, contact us today.