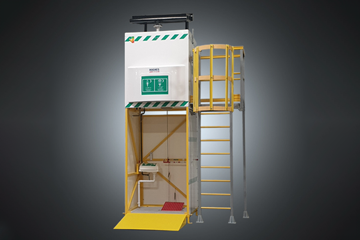 This isn't just any emergency tank shower, this is a HUGHES emergency tank shower...

Selecting the right safety shower for your site can be a complex task. With challenges such as remote locations, extreme temperatures, low water pressure or no reliable water supply, a simple tubular shower isn't always the right fit. From oil rigs to water treatment sites, petrochemical plants to mining facilities, emergency tank showers are the ideal solution.
Self-contained and resilient, emergency tank showers are often the simplest and most comprehensive way to stay compliant.
Here are our top 10 reasons as to why you should choose a Hughes 1500L emergency tank shower:
1. EN15154 and ANSI Z358.1-2014 Compliant
1500L tank showers are designed to meet EN and ANSI requirements to provide tepid water for over 15 minutes at a guaranteed flow of 76 litres per minute for the shower and 12 litres per minute for the eye wash, simultaneously.
2. No constant water supply? Low supply pressure? No problem
Hughes emergency tank showers are stand-alone, gravity-fed units so do not rely on a plumbed in water source that may be inconsistent or non-existent.
3. Customisable to meet your exact requirements
Our range of tank showers has a wide array of optional extras to tailor your equipment towards your specific safety needs:

4. Supply of tepid water whatever the climate
The tank shower models can be supplied with an immersion heater and insulation to prevent freezing, or insulated only for hot climates to ensure a steady temperature is maintained.
Cooling options or heaters are necessary to ensure the provision of tepid water in extreme cold or hot climates. Flameproof chillers, non-flameproof chillers, and the award-winning Hughes Zero Power Cooler®, we have a cooling option to fit every application.
5. Durable construction
The polyethylene tank and GRP panelling allow for high corrosion and UV resistance, while the tank shower frames are built to California earthquake code.
6. British made
Manufactured at our factory in the UK, the emergency tank showers are built to a proven design and have a long life. We're also proud to have been awarded the ISO 9001:2015 certification, an internationally recognised standard that ensures our services meet the needs of clients through an effective quality management system.
7. Simple to operate
The walk-on foot panel and panic bar activation allow for quick and simple operation in an emergency.
8. Lidded eye/face wash
Keeps bowl free from contaminants such as dust and debris from the surrounding environment.
9. External test handle
Weekly activation of your safety showers and eye/face wash units is paramount to ensure that all emergency equipment is operating properly. The external handle on our emergency tank showers enables quick and easy activation without you getting soaked!
10. Product after-care
The benefits of buying a Hughes emergency tank shower doesn't stop after the initial purchase. We also offer comprehensive service plans to ensure your equipment is fully operational if needed in an emergency. In addition, we now offer on-site legionella tests with accurate, reliable results that can be provided in just 25 minutes allowing for a speedy response plan if necessary. Read more about the risks and how to manage them.
For challenging locations and applications, emergency tank showers are the ideal solution. With a Hughes tank shower, you can expect high quality manufacturing with the ability to tailor your safety shower solution to your specific needs.
Talk to our product specialists today or request a customised quote
Online enquiry