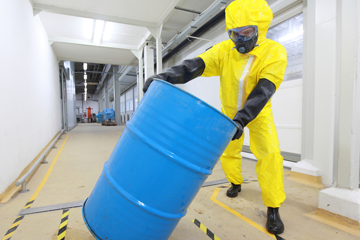 Common hazardous substances and safety equipment requirements
Every year, thousands of workers are injured or suffer ill effects due to hazardous substances. Employers are responsible for taking effective measures to control exposure to these substances and to ensure proper procedures are in place in the event of a spill or splash.
There is a wide range of chemicals that can be hazardous to workers health. If a substance is harmful, they will be clearly labelled with the relevant hazard symbol(s). Common materials in everyday use such as paint, bleach, solvent, or fillers are all considered hazardous.
Chemical suppliers must provide a safety data sheet which can help users understand how to control the hazardous substance and prepare for any spills or splashes. The information contained in a safety data sheet should be in a user-friendly 16-section format and include: properties of the chemical (including recommended use and any restrictions on use) the physical, health, and environmental health hazards, protective measures, and safety precautions for storing, handling and transporting the chemical.
They also include a section displaying the safety pictograms for the substance, for example;
Always ensure you read the full safety data sheet carefully and follow the recommendations within. It should not replace the need for a risk assessment and should only be used to guide your own thorough evaluation.
Hughes supply to numerous industries, here we've outlined some of the most common hazardous substances they encounter. It is clear to see why safety showers and/or eye washes are a necessity in these environments.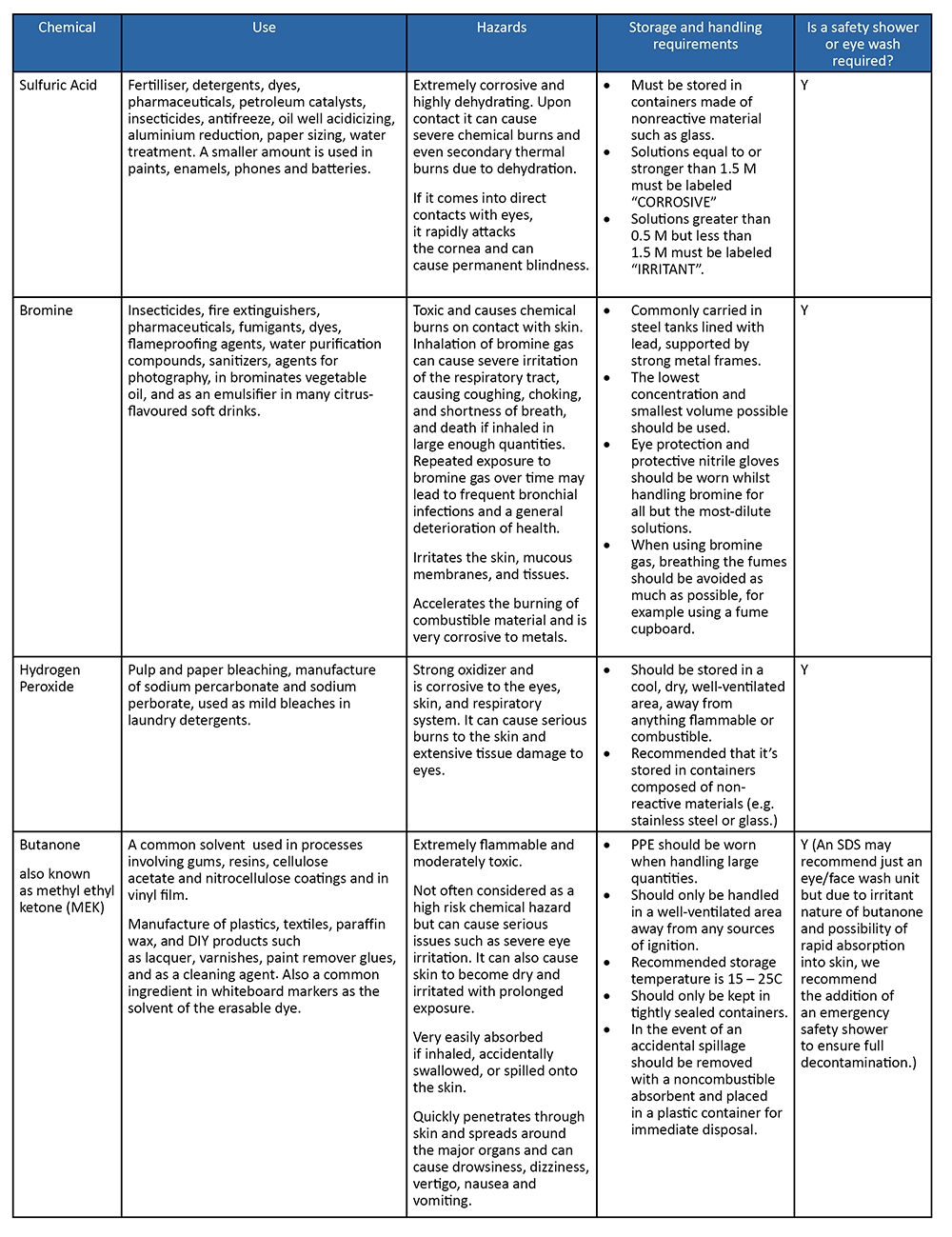 Standard considerations
In the chemical SDS, under first aid in the event of a spill or splash, it may mention flushing with a 'large amount of water'. Some may specify an amount of time, usually 15 minutes. European and international standards do recommend the full 15 minutes of flushing to ensure a full decontamination.
Both EN15154 and ANSI/ISEA Z358.1-2014 provide uniform minimum requirements for the performance, use, installation, testing, maintenance and training of emergency safety shower and eyewash equipment.
As hazardous chemicals can be used in a variety of locations across sites, it's important to be aware of the requirement from EN and ANSI standards that safety showers must be placed within 10 seconds reach (or 15 metres) of a hazard to minimise injury.
Take a look at our standards summary documents for an easy to digest run-down of the main recommendations.
Which safety showers or eye/face wash units suit your site?
Don't forget, if you run a workplace where harmful materials are, the law requires you to control the use of those chemicals. Ensure you assessed the risks in the storage, handling and implementation of the substances so that you can apply and maintain effective control measures.
For advice on the most suitable solution for your application or to request a quote, contact us today.