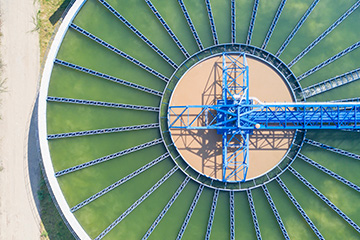 Specifying emergency safety showers at wastewater treatment plants

Specifying safety showers at wastewater treatment plants
Ensuring that communities and businesses have access to safe, clean water each day is a top priority for the water and wastewater sector. From drinking water to crop irrigation to support the food supply, properly treated wastewater is essential to prevent disease and protect the environment. On average, 144 litres of water per person per day is supplied to households in Europe, so it's no surprise that that there are around 18,000 wastewater treatment plants across the continent.
This vital workforce is often exposed to remote and demanding environments along with a range of hazardous chemicals used in the water treatment process. Chlorine and chloramine are the major disinfectants used in public water systems. Within the UK, water companies are required to meet the EU Drinking Water Directive by disinfecting public water to the point of supply to prevent disease-causing bacteria and viruses such as salmonella and norovirus. Various processes are used to achieve safe levels of chlorine in drinking water. However, chlorine in its natural form is toxic and highly corrosive. The liquefied gas can chill or freeze the skin upon contact, symptoms of this frostbite range from numbness, prickling, and itching through to a more severe burning sensation which can cause blistering and infection. The use of safety goggles and protective clothing is recommended, as well as the provision of eye wash and safety shower facilities for contact or splash hazards.
According to EN and ANSI standards, eye washes and safety showers must be positioned within 10 seconds reach of a hazard. All employees must be made aware of the location of this essential equipment and trained in how to use it correctly. For many chemicals, to ensure a thorough decontamination, flushing of the affected area should continue for at least 15 minutes with tepid water (15-37C). It is important to check the requirements of the relevant safety data sheet to ensure the correct procedure is followed in the event of an accidental splash or spill.
Safety shower requirements will differ from site to site, although the necessity for stainless steel pipework and fittings is commonplace due to its corrosion-resistant properties. The remote nature of some wastewater treatment plants makes self-contained safety showers an ideal solution to provide safe potable water to a casualty.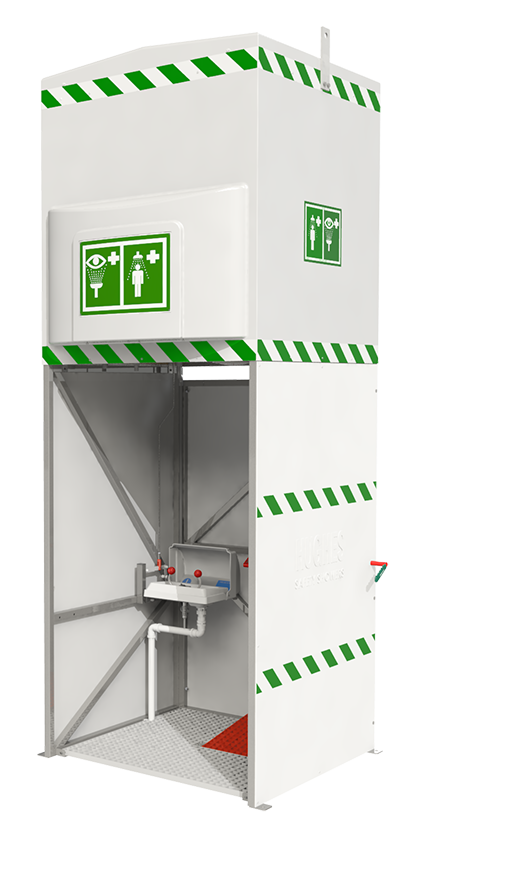 The Hughes 1500 litre emergency tank shower with eye wash is the perfect "all-rounder". Whatever the location, or climate, there is a model available to provide tepid water at a rate of 76 litres a minute for up to 15 minutes. The overhead tank stores 1500L of water so can remain self-contained or can be plumbed into the main water supply.

During the colder seasons, the immersion heated model (EXP-MH-14KS/1500) will maintain the water temperature within the tank in the tepid range. In locations experiencing hot ambient temperatures, a range of cooling options are available for the jacketed model (EXP-J-14KS/1500) to ensure it also meets EN or ANSI temperature standards.
The Hughes range has models suitable for all environments. Explore the full range of Hughes eye washes and safety showers.
Protecting the workforce should be at the forefront of every employer's mind. To discuss your specific site requirements with the experts, contact Hughes today on +44 (0)161 430 6618 or via the online contact form.