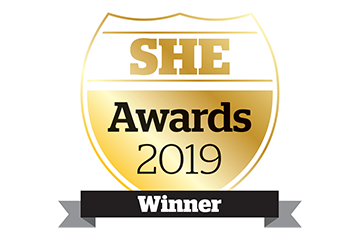 Hughes Win Safety and Health Excellence Award
Pictured (left to right): Comedian Sean Lock; Paul Darlington, Executive VP EMEA; Martin Eccles, SHEQ technician; David Hall, Operations Manager and SHE awards representative
Hughes are proud to have been awarded Best Health and Safety in Manufacturing at the SHE Awards 2019. The SHE Awards was launched in 2018 and aims to recognise the key role that companies and individuals play in keeping people and premises safe. An esteemed panel of key industry figures whittled down more than 200 entries to a shortlist of 91 entries across ten categories.
This award win recognises the successful implementation of a Good Catch System at Hughes which helped in achieving a positive health and safety culture. The system is based on employee suggestions and ideas and drives continual improvement.
Good Catches, health and safety concerns or ideas, raised by employees are discussed during Committee Safety Review meetings and new ideas and changes are implemented.
Barbara Derecka, EMEA Health and Safety Manager commented, "It can be difficult to show through data just how much our health and safety culture has been enhanced but it can be seen and felt within the company. We feel that this improvement in attitude towards health and safety can mainly be attributed to employees knowing that Hughes listens to their concerns and acts on them."
Implementation of the Good Catch system project has helped build a positive health and safety culture at Hughes and engaged employees in safety management.
What's more, not only did Hughes win an award but our SHEQ technician, Martin Eccles, received a commendation in the Rising Star category. We would like to congratulate Martin and the everyone involved in making health and safety a priority at Hughes.