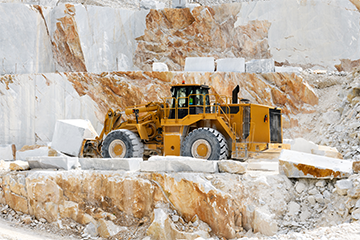 Refined safety processes involved in natural stone production

Lafarge's Mountsorrel quarry in Leicestershire is among the largest granite quarries in Europe, with an area of 785,400 square meters and production of approximately 3 million tonnes of granite each year. Granite and other natural stones are a highly sought after material, for their various uses across many industries. From architecture and paving, to sculptures, and even home furnishings. Granite is a versatile natural stone used in the production of key infrastructures, such as roads, railways, bridges, and buildings. Natural stone has withstood the test of time as a construction material with buildings crafted in ancient times, such as the marble-crafted Roman Pantheon, still standing tall today.
Over time, the process for quarrying and preparing these robust materials has refined to preserve as much of the raw material as possible. For less precious stone, such as granite, controlled explosive blasts are carried out regularly to break down as much material as possible into portable sizes. To carry out these blasts, evenly spaced holes are drilled into the landscape, filled with explosives and detonated from a distance to protect workers.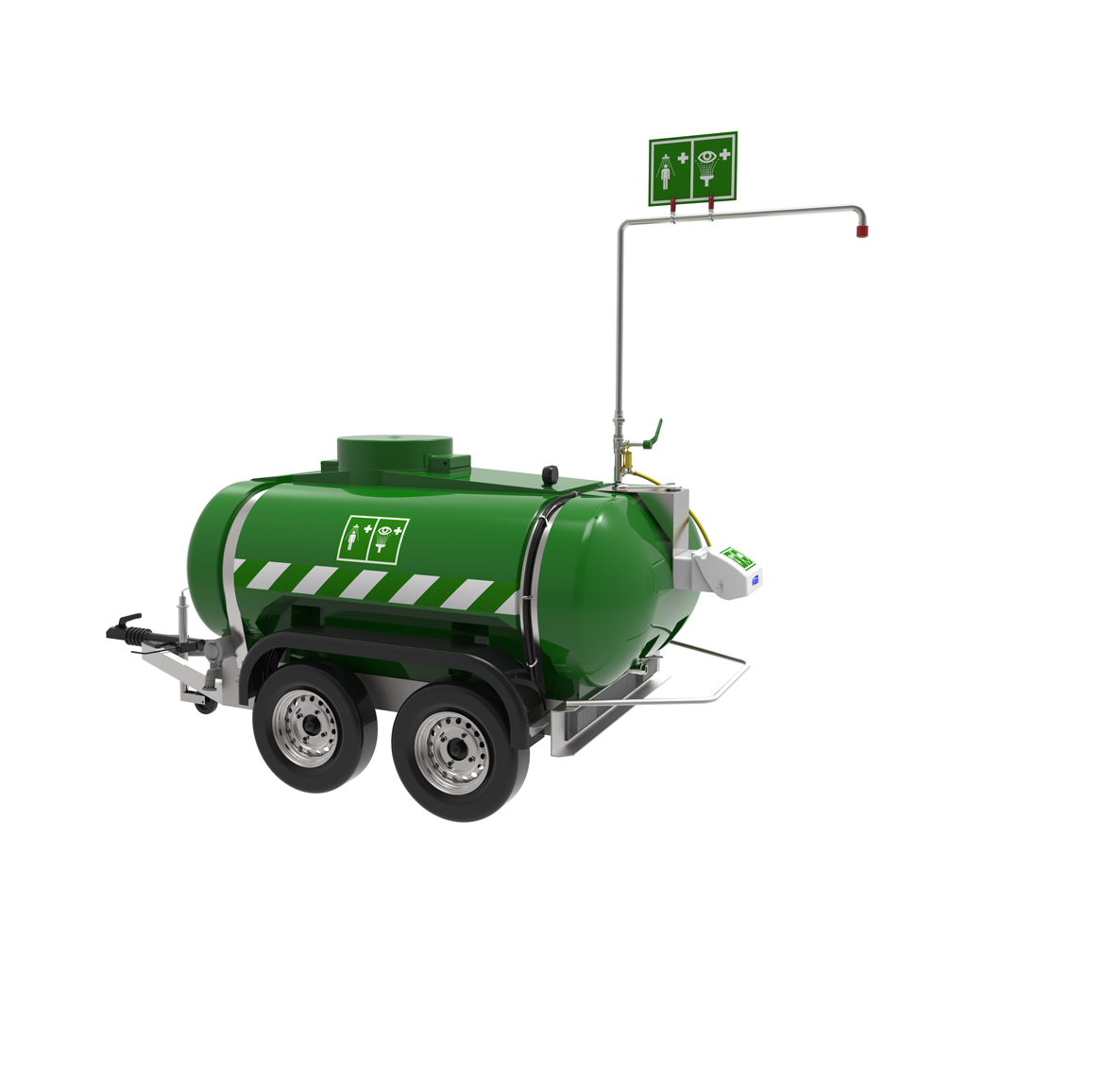 Despite these precautions, the detonation of several tonnes of raw stone causes huge quantities of dust and debris to be expelled into the air which lingers while workers reconvene on site to collect and transport the materials. Workers risk these irritants entering their eyes and obstructing their vision posing a further danger when operating machinery and handling heavy materials. To provide relief to workers in these areas an emergency shower and eye wash station should be situated within 10 seconds reach of the hazard to flush the eyes of contaminants. For remote sites like quarries, Hughes manufacture a range of tank-fed units. These products feature an overhead tank which can be filled with potable water for a decontamination zone on site where a plumbed-in shower would not be possible. With the addition of an optional eye wash to provide an all-in-one solution. Where the site of the hazard changes, a mobile solution is necessary to supplement a permanent installation. Hughes' 1200L bowser can be filled and easily transported around a changing site with use of the provided towing hitch.
More precious stones and stone used for its aesthetic value, require delicate harvesting methods due to the nature of the product. These dense stones are highly sought-after products, commonly used in luxury home furnishings and architecture due to their durability and appearance which consists of crisp colours and contrasting veins. For this reason, techniques are used to preserve as much of the raw material as possible. Diamond wires are flushed with water while cutting the material into blocks, and later slabs, to keep the stone cool and prevent cracking.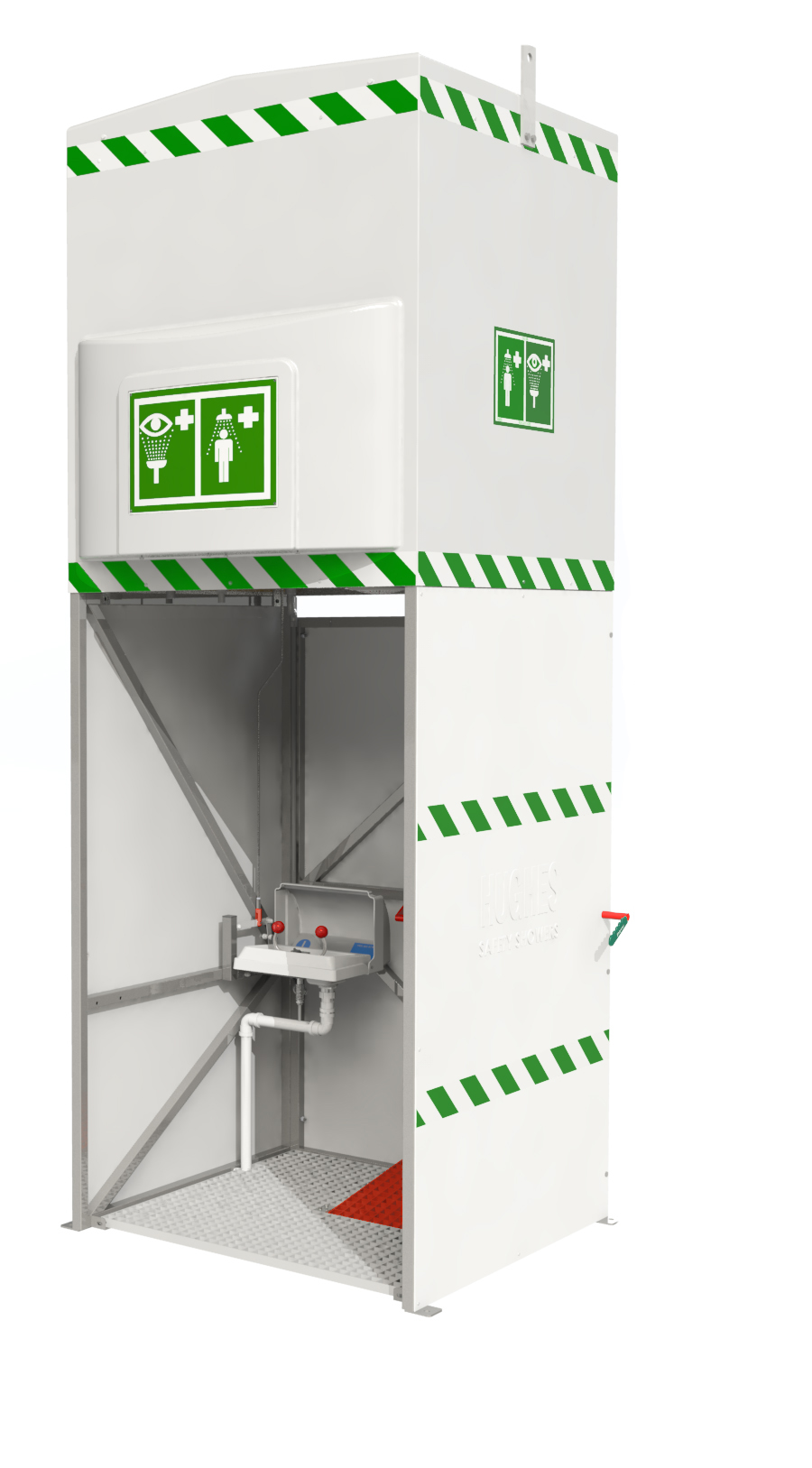 To correct any surface imperfections, the slabs are buffed prior to applying resins by hand, then sealing with a final polish. While these chemical solutions are necessary for shaping and polishing the stone, the potency of these substances are hazardous to those working with them. When contacting the skin, resins can cause prolonged ailments such as painful dermatitis. To prevent any injury, it's imperative that the workforce has immediate access to an emergency safety shower. Safety showers provide immediate relief to the casualty by thoroughly flushing the affected site. For a thorough decontamination it is recommended that the unit provide uninterrupted operation for at least 15 minutes.
As with on the quarry bed, the Hughes' 1500L emergency tank shower is an ideal solution for such environments, complying to both EN and ANSI standards. Jacketed and heated variants are available to suit all climates. The shower is highly customisable to fit your site's needs, for example, for large sites audible and visual alarms are beneficial to alert co-workers when a casualty activates the shower and may require assistance.
To find out more about how Hughes can help you, submit an enquiry to our expert team who will work with you to find the perfect solution.