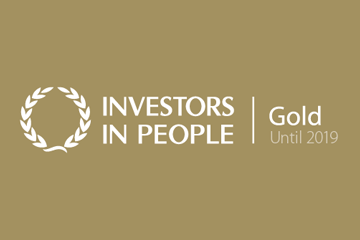 Hughes Awarded Investors in People Gold Accreditation
Hughes Safety Showers, Europe's leading manufacturer of emergency safety showers, eye/face wash and decontamination equipment, has been awarded Gold accreditation against the Investors in People Standard, joining the top thirteen per cent of accredited organisations across the UK, demonstrating their commitment to high performance through good people management.
Established in 1968, Hughes has built a reputation for innovative engineering design, stringent quality standards and compliance with European and International standards. With offices and manufacturing facilities in the UK, USA, Germany and the Middle East complemented by a network of authorised distributors, Hughes helps ensure the safety of workforces worldwide.
Investors in People is the international standard for people management, defining what it takes to lead, support and manage people effectively to achieve sustainable results. Underpinning the Standard is the Investors in People framework, reflecting the latest workplace trends, essential skills and effective structures required to outperform in any industry. Investors in People enables organisations to benchmark against the best in the business on an international scale.
Paul Devoy, Head of Investors in People, said: "We'd like to congratulate Hughes Safety Showers, Investors in People accreditation is the sign of a great employer, an outperforming place to work and a clear commitment to success. Hughes should be extremely proud of their achievement."
Steve Burrows, Managing Director of Investors in People North of England said, "This is a fantastic achievement for Hughes Safety Showers and I would like to congratulate all of the team. We believe that your people make the difference and by investing in them you are looking to create sustainable success. IIP is designed to help organisations and their people to realise potential, providing a simple road map for excellence. With their Gold accreditation success, Hughes is certainly working to realise their people potential."
Commenting on the award, Steve Hudson, Head of HR for the Hughes EMEA Region, said: "I am very proud to have gained the Investors in People Gold accreditation. This business has been through significant change over the last twelve months so to achieve the Gold standard against the new framework is a fantastic achievement by all the team. The new framework is very challenging but provides a great external metric of best practice and provides a bench mark for continuous improvement within our business."
For more information about Investors in People please visit www.investorsinpeople.com