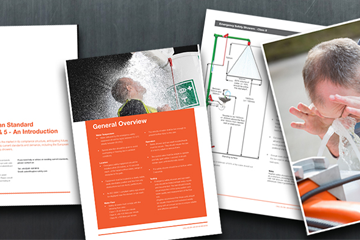 Updates to BS EN15154 standards for emergency safety showers

The series of standards on emergency safety showers installed on industrial and logistics sites, EN15154, have recently been updated to include "Part 5: water overhead body showers for sites other than laboratories". This includes both plumbed-in safety showers and tank showers as well as combination models which incorporate an eye wash unit or hand-held shower.
Staying up to date with the latest standards ensures you remain compliant whilst also protecting the safety of your workforce. Performance and installation requirements, along with operation and maintenance instructions are all detailed within the standard and should be referred to in further detail. Published in November 2019, this Europe wide standard update will be given the status of a national standard by April 2020. Visit the BSI website to purchase and download.
View and download our summary document outlining the general considerations and installation requirements to assist in understanding the new standard. (Note: Safety showers manufactured by Hughes meet Class II as a minimum, providing a flow rate of >60-100 litres per minute. The summary references Class II guidelines only)
Additional Information
EN15154-5 is part of a series of standards relating to emergency safety showers that should be adopted throughout Europe. Some countries have national regulations that must also be considered, for example Germany adheres to DIN standards which require safety showers to be connected to a potable water supply where available.
Part 1: Plumbed-in body showers for laboratories
Part 2: Plumbed-in eye wash units
Part 3: Non plumbed-in body showers (including fixed, transportable or portable)
Part 4: Non-plumbed-in eyewash units
Part 5: Water overhead body showers for sites other than laboratories (including combination showers, tank showers and trailers mounted)
Part 6: Plumbed-in multiple nozzle body showers for sites other than laboratories